Tokyo (August 24, 2015) - Bridgestone Corporation has announced that Bridgestone NCR Co., Ltd. (BSNCR), a subsidiary of Bridgestone Corporation, began production of conveyor belts in July 2015 at their manufacturing facility in Rayong, Thailand. The first shipment of BSNCR belts has been sent to Laem Chabang Port in Thailand's Chonburi Province. The conveyor belts produced by BSNCR will be sold to companies in various industries such as mining, steel, and electric power companies, and will be shipped primarily to Australia, the Americas and Asia.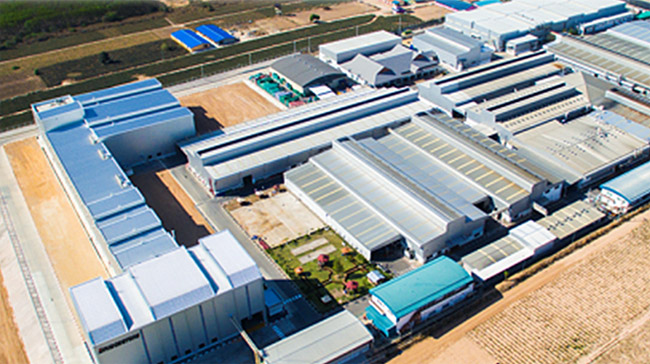 Exterior view of BSNCR plant (the conveyor belt manufacturing facility is the building on the left)
The Bridgestone Group also produces conveyor belts at the Bridgestone Yokohama Plant in Yokohama, Japan. The manufacturing facility in Thailand is the Bridgestone Group's second production site for conveyer belts worldwide. The conveyor belts manufactured by the Bridgestone Group are utilized in the conveyance of minerals and other materials, and they are highly regarded by customers.
In addition to the sale of conveyor belts, the Bridgestone Group is also strengthening the development and promotion of its business solutions initiatives. These initiatives support the economical, safe operations of its customers through a combination of Bridgestone products related to mining, including off-the-road tires for construction and mining vehicles, as well as service and maintenance.
Moving forward, the Bridgestone Group will continue to apply its advanced technical capabilities and provide high-quality products and services that help customers resolve their business challenges.